What is in the programme? There are 3 pillars. Each one focused on developing your skills in a specific area. They build on each other. I do not know your skill level at this moment; for this reason, we cover a lot of ground and source various courses to help you develop your skills.

What makes this different? We cover a lot. There are 3 pillars. The foundation level is getting the basics in place. The marketing skills builds on it. You can dive into a specific section at any time.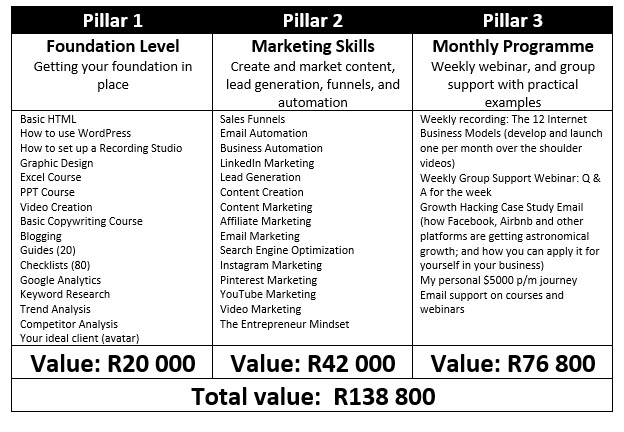 You get access to all current courses and guides the moment you join. We go into 12 internet marketing business models, one per month. You decide which one is right for you. We do an over the shoulder video recording for you to follow, learn from and apply.
What are the 12 Internet Business Models? There are a couple of ways to earn money online. We will look at the most popular ones and setup one per month; from start to finish. This is an over the shoulder development program showing you how to do it (video recordings); mistakes we make, how to do it better, tips and tricks. You can choose which one fits you best. Each model has pro's and con's; like any business. Here are the 12 we will be covering (in no specific order):
E-Commerce store
Affiliate marketing
Freelancing
Amazon
Online Marketing Services
Drop Shipping
SaaS (software as a service, DIY or White Label)
Courses
Membership Sites
Info Products
The Advertising Model
Social Influencer (Pinterest, Instagram, YouTube, Facebook, Twitter)
We follow this curriculum for each model:
Day 1 to 3: Research (do practical research; keywords, competition, Facebook audiences, and more)
Day 4 to 6: Business plan (show you how to create a business plan, including the research, financials, break-even, marketing plan, exit strategy, and more)
Day 7 to 15: Setup (getting a domain, hosting, systems, automation, advertising, etc).
Day 16 – 20: Mini Test Launch (switching on and testing)
Day 21 – 30: Launch (all in)
Monthly: Growth Hacking (practical growth hacking)
Monthly: We share basic financial information and results
PLUS; My Growth Hacking Journey (not a lot of people showing you how to growth hack a business). The best part is you can apply this to EVERY business you start because it is developing your skills; your knowledge. Your skills become your super power.
What is growth hacking? It is a business growth methodology coined back in 2012. Growth hacking is a process of rapid experimentation across marketing funnel, product development, sales segments, and other areas of the business to identify the most efficient ways to grow a business (Wikipedia). It has been the driving force behind Facebook, AirBnB, LinkedIn, YouTube, Mint, Dropbox, PayPal, and many more.
What is needed? Some basic computer skills, a laptop (you do want to work from anywhere, right?), and internet access. For some business models you will need to get systems; ie hosting; e-commerce system, email system, etc. We will cover different options for each.
What about advertising budgets? Each market is different, and the cost is different. We do suggest having a marketing / advertising budget. The trick is to start small and build from there. If you do not have a budget; you will need to hustle more (also a topic we cover). An advertising budget gets faster results.
Who is this for? This is for entrepreneurs and business people who are already in business or who want to start a side income (side hustle) using the internet as a base which allows you to work and live from anywhere.
Who will this NOT work for? If you are looking for quick overnight success; this is not for you. If you want to run scams; this is not for you. If you are not willing to put in the time and effort, this is not for you. If you are not willing to open your mind, learn, try, fail and discover, this is not for you.
What is included? Access to all the courses in the 3 pillars; weekly Q&A one-hour support webinar; and email support around the courses and the webinars.
What is not included? I will not do the work for you. That is what you need to do. Completing the training, attending webinars; the research, setup, design, sourcing, marketing, sales, etc … that is what you do. You can consult with me at my current online Skype rate of R600 ($47) per hour (hey, I might be in Balito or Cape Town when we talk).
Will you be successful? I cannot make you a success. Only you can. I can help you on your journey by supporting you to develop your skills which increases your chances of being successful. Your skills, determination and taking action, all determines the level of your success.
* Instant access to current courses
* Instant access to guides and mini courses
* Access to future courses
* Access to future guides
PLUS Weekly business growth ideas: Get weekly tried and tested ideas on developing and growing your business. YES! One idea could change your business forever! We have seen this happen many times.
The Big Goal? $5000 (around R70 000) per month. Why $5000? I read somewhere if you earn $5000 (that is around R70 000) per month you can live anywhere. You will not get rich. But you will not go hungry either. It is also possible that this can be a side income (side hustle) for you. You could make less or more than $5000. A friend made R80 000 / month on Amazon (kindle books). Another friend has an online store. They are making a killing! Another friend stayed for 3 months in Mauritius with his family (wife and 2 kids).